This website is made possible by displaying online ads. Without them, we can't afford to create new content.
Please consider turning off your ad blocker.
Magic Makers
Disney fairies, genies, witches, wizards and other characters who can use magic
The Evil Queen (Snow White and the Seven Dwarfs)
The Blue Fairy (Pinocchio)
Mickey Mouse (Fantasia)
Fairy Godmother (Cinderella)
Flora, Fauna and Merryweather (Sleeping Beauty)
Maleficent (Sleeping Beauty)
Merlin and Madam Mim (The Sword in the Stone)
The Witches of Morva (The Black Cauldron)
King Triton (The Little Mermaid)
Ursula (The Little Mermaid)
Enchantress (Beauty and the Beast)
Genie (Aladdin)
Jafar (Aladdin)
Tanana (Brother Bear)
Dr. Facilier (The Princess and the Frog)
Witch (Brave)
Elsa (Frozen)
Maui (Moana)
You may like...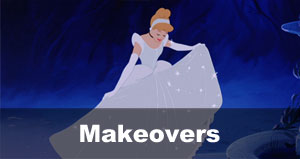 See more