Featuring quality PNG images of Bingo, Rolly, Bob, Hissy, A.R.F., Cupcake and Rufus
last updated on January 2nd 2020
Note: These images were drawn (by tracing) and/or colored and clipped by Disneyclips.com, and are for non-commercial use only. When sharing, include a source link.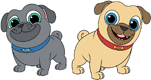 Hold on! You may also like:
Thanks to SKGaleana for her Bingo and Rolly coloring page.