Disney Love Triangles
Three's a crowd!
Criteria: Human characters in a leading role with more than one love Interest or admirer
Ichabod Crane (The Adventures of Ichabod and Mr. Toad) falls for Katrina the moment he lays eyes on her, but the "little coquette" already has a suitor in brawny Brom Bones.
Kristoff (Frozen) develops genuine feelings for Anna, whose hand in marriage the conniving Prince Hans has secured with ulterior motives.
The Beast (Beauty and the Beast) feels his cold heart thaw with love for Belle, whom the vain Gaston has made plans to woo and marry, she being the only girl in town "as beautiful as" he.
Streetrat Aladdin falls head over heels in love with princess Jasmine, and remains undaunted in his pursuit of her hand in marriage even against the growing threat of the power-hungry vizier Jafar, who is determined to marry her himself.
John Smith is soon smitten with the mysterious Pocahontas, but her father, Chief Powhatan, has already promised her hand in marriage to Kokoum.
Quasimodo (The Hunchback of Notre-Dame) cannot help falling in love with the kind gypsy Esmeralda. He is crushed when he discovers that her heart belongs to the soldier Phoebus.
You may like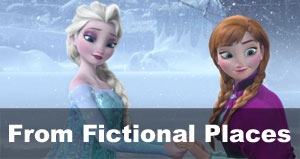 See more