Deep in the Hundred Acre Wood live Christopher Robin's friends: Piglet, Tigger, Eeyore, Kanga, Roo, Rabbit, Owl and a silly old bear stuffed with fluff named Winnie the Pooh.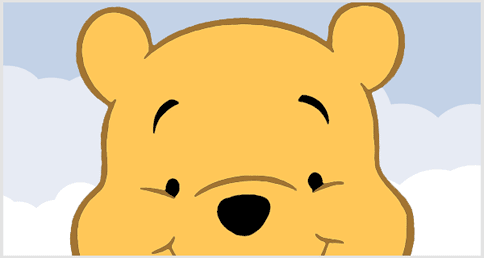 Appearances
The first book about Winnie the Pooh, simply entitled "Winnie-the-Pooh", by Alan Alexander Milne was published on October 14th 1926.

Winnie the Pooh was first brought to life by Disney animators in 1966 in the theatrical featurette "Winnie the Pooh and the Honey Tree". Two more short films followed: "Winnie the Pooh and the Blustery Day" (1968) and "Winnie the Pooh and Tigger Too" (1974). All three were combined in 1977 in the full-length movie "The Many Adventures of Winnie the Pooh".

Subsequently, Winnie the Pooh appeared in four television series, nine direct-to-video movies and four theatrical releases ("The Tigger Movie", "Piglet's Big Movie", "Pooh's Heffalump Movie" and "Winnie the Pooh").
Did you know?
The character of Christopher Robin was inspired by author A. A. Milne's son Christopher Robin Milne, and Pooh, Tigger, Piglet, Eeyore, Kanga and Roo by the boy's beloved stuffed toys.

Christopher Robin Milne's teddy bear was first named Edward. He was later renamed Winnie after a female black bear that resided for some time at London Zoo. The bear was named after the Canadian city of Winnipeg.