Let's explore those magical movie moments when love struck instantly, though not necessarily on both sides...
Snow White and the Prince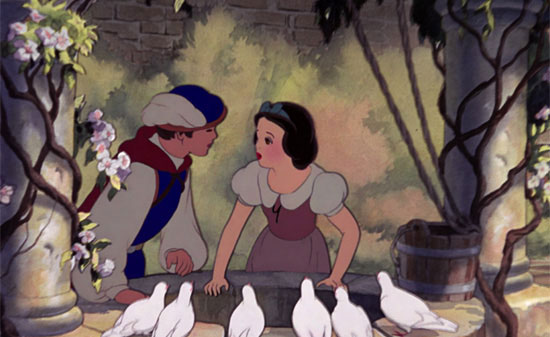 The Prince approaches Snow White in the castle courtyard as she draws water from a well, and begins to serenade her with "One Song". Startled, Snow White retreats into the castle, but soon steps out onto an overlooking balcony and sends a dove to him, signalling a return of her affections. (Snow White and the Seven Dwarfs)
Related:
The story of Snow White
Cinderella and Prince Charming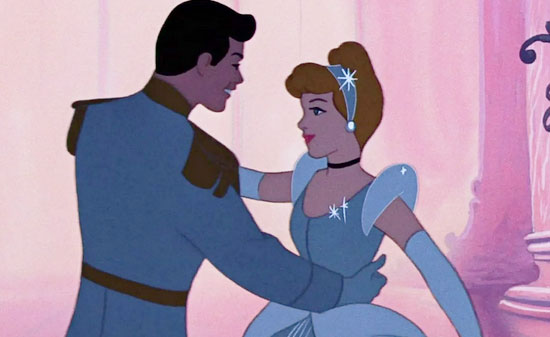 Cinderella and Prince Charming meet at the ball. The prince, instantly smitten, has eyes only for Cinderella and invites her to dance. As they dance, they fall deeply in love. (Cinderella)
Related:
Cinderella's Valentine dress up
Aurora and Prince Phillip
Aurora, singing in the forest while out picking berries, attracts the attention of Prince Phillip. The two fall immediately in love, feeling as though they've met before "once upon a dream". (Sleeping Beauty)
Related:
Disney Princess list
Giselle and Edward
Fair Maiden Giselle litterally falls into the arms of Prince Edward, her "true love", and the pair, instantly attracted to each other, plan to marry the very next day. (Enchanted)
Related:
Giselle dress-up game
Ariel and Eric
The little mermaid Ariel, who has long been fascinated by humans, falls for Eric when she sees him aboard his ship after swimming to the surface. (The Little Mermaid)
Related:
The Little Mermaid quiz
Eric and Ariel
Eric falls for Ariel when she sings to him on the shore after rescuing him from drowning. (The Little Mermaid)
Related:
Top 10 Disney couples
Hercules and Meg
Hercules is so smitten with femme fatale Megara that he can hardly speak when he approaches her after saving her from the centaur Nessus. Meg, who had vowed never to fall in love again after her boyfriend left her for another woman, takes a little longer (and a little push from the Muses) to admit to herself that she's in love with Hercules, and allow herself to open her heart to him. (Hercules)
Anna and Hans
On the day of her sister's coronation, princess Anna meets Prince Hans of the Southern Isles. She's quite taken with the handsome and charming prince when he helps her up from a rowboat. They spend much of that evening together, which culminates in a proposal of marriage. Unfortunately for Anna, Hans' motives are far from noble. (Frozen)
Related:
The story of Frozen
Gaston and Belle
Gaston is determined to woo and marry Belle, for "only she is as beautiful as" he. He does his best to impress her, and even proposes to her, but Belle rejects him, saying "I just don't deserve you." (Beauty and the Beast)
Related:
Beauty and the Beast quiz
Aladdin and Jasmine
Aladdin spots the beautiful princess Jasmine in the marketplace while having breakfast with Abu, and rescues her from an angry vendor about to punish her for stealing. The two quickly form a romantic connection, which is unfortunately interrupted by palace guards, but they reconnect some time later on an unforgettable magic carpet ride. (Aladdin)
Related:
Jasmine's Valentine dress-up
Pongo and Perdita
Pongo can't take his eyes off Perdita when he sees her from a window in Roger's London flat. The clever pooch eagerly arranges a meeting through their "pets" Roger and Anita. (101 Dalmatians)
Related:
101 Dalmatians movie quiz
Tramp and Lady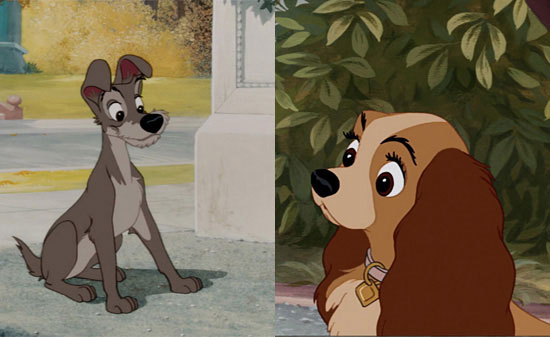 Tramp spots Lady while walking by her house, and it's all over for him. Cautious Lady falls more slowly in love with Tramp during a romantic evening featuring a candlelit spaghetti dinner. (Lady and the Tramp)
Thumper and Miss Bunny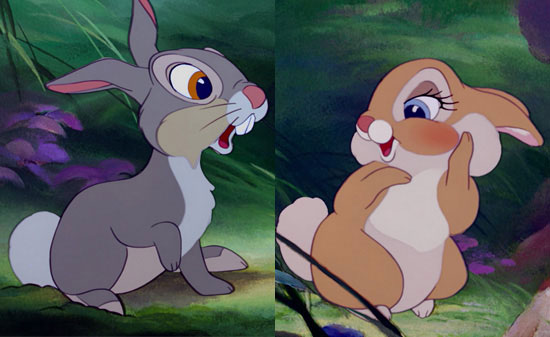 Thumper goes gaga for miss Bunny. (Bambi)
Flower and Miss Skunk
It's love at first sight for Flower and miss Skunk, too. (Bambi)
Bambi and Faline
Bambi gets twitterpated at the sight of Faline, all grown-up. (Bambi)
Tod and Vixey
Tod is enchanted by the beauty of lady fox Vixey. (The Fox and the Hound)
Thomas O'Malley and Duchess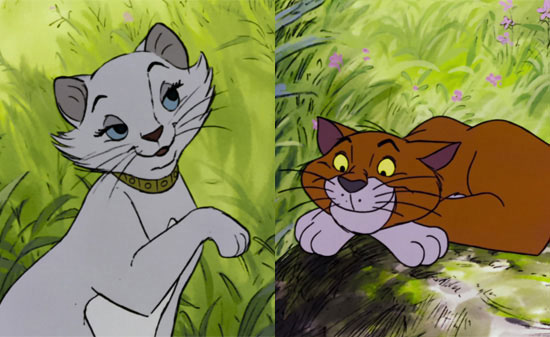 While casually singing and strutting along, Thomas O'Malley, the alley cat, does a double take when he sees Duchess. (The Aristocats)
Related:
The Aristocats personality quiz
Mowgli and Shanti
Mowgli can't look away from Shanti as she comes down by the riverside to fetch water. He's so entranced by her beauty that he chooses to leaves the jungle with her. (The Jungle Book)
Related:
The Jungle Book quiz
WALL-E and EVE
Lonely WALL-E falls in love with EVE at first sight. (WALL-E)
Quasimodo and Esmeralda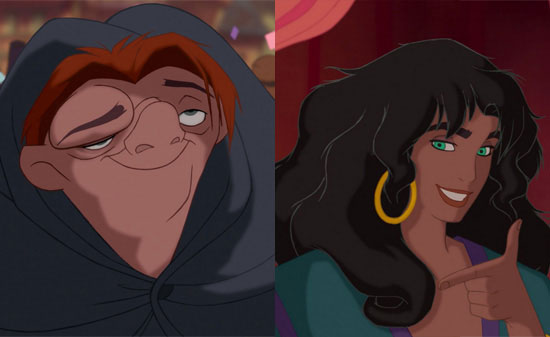 Quasimodo falls for the kind gypsy Esmeralda at the Feast of Fools. Sadly for Quasi, Esmeralda does not reciprocate. She falls in love with the soldier Phoebus. (The Hunchback of Notre-Dame)
Related:
Disney love triangles
Bongo and Lulubelle
Bongo falls for Lulubelle. (Fun and Fancy Free)
Ichabod and Katrina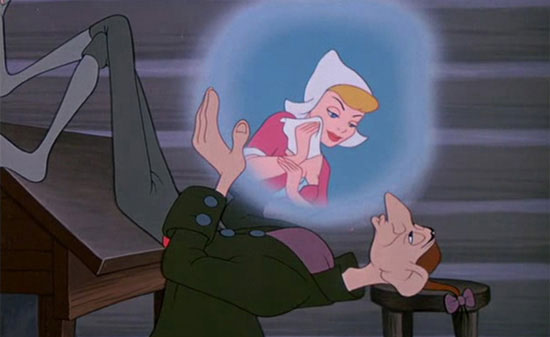 Ichabod can't take his mind off the lovely coquette Katrina. (The Adventures of Ichabod and Mr. Toad)
Bernard and Bianca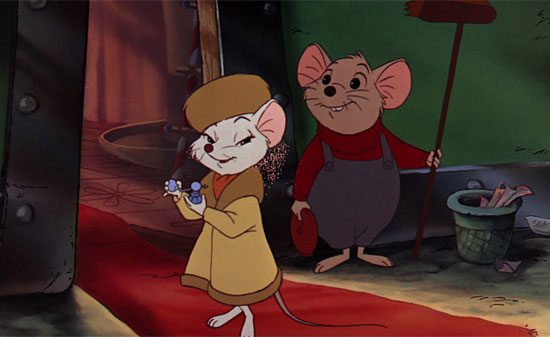 Bernard can't help falling in love with Bianca. (The Rescuers)
Jake and Bianca
Jake can't help falling in love with Bianca either. (The Rescuers Down Under)
Tito and Georgette
There's just something about Georgette that Tito can't resist. (Oliver and Company)
Felix and Calhoun
Fix-it-Felix is very impressed with Sergeant Calhoun and her amazing, high-def face. (Wreck-it-Ralph)
Now for those equally magical movie moments when love formed over time...
Belle and Beast
Belle offers herself as prisoner to the Beast in exchange for her father's freedom. Over the course of months, the Beast softens towards her, and Belle begins to see past his rough exterior. The tension between them dissipates, and a warm friendship takes its place, as the Beast shows Belle his library, and Belle teaches him to read. Their love blossoms and grows, slowly but surely. (Beauty and the Beast)
Related:
Beauty and the Beast quiz
Tiana and Naveen
Tiana and Naveen come from very different walks of life, and their personalities clash. But once they get to know each other, they learn from their differences and grow together, as true love grows between them. (The Princess and the Frog)
Related:
Tiana's wedding day dress-up
Tarzan and Jane
Tarzan and Jane are immediately intrigued by each other and quickly discover they have more in common than meets the eye. Slowly their mutual attachment grows. (Tarzan)
Simba and Nala
Simba and Nala start off as the best of friends, but are separated when Simba runs far from home to escape Scar and the hyenas. When they meet again, their friendship naturally blossoms into love. (The Lion King)
Mulan and Shang
Mulan and Shang meet in the army as Mulan, taking the place of her father, poses as the soldier Ping. The two become close over time, with Shang visiting Mulan after the war is ended, and Mulan inviting him to stay to dinner. (Mulan)
Related:
Mulan movie quiz
Pocahontas and John Smith
Upon meeting, Pocahontas and John Smith are very curious about each other, and more than a little wary. Pocahontas shows John a different view of the world and teaches him that people who don't look and think like him, are still people. They both learn things they never knew as they spend more time together and grow closer. (Pocahontas)
Rapunzel and Eugene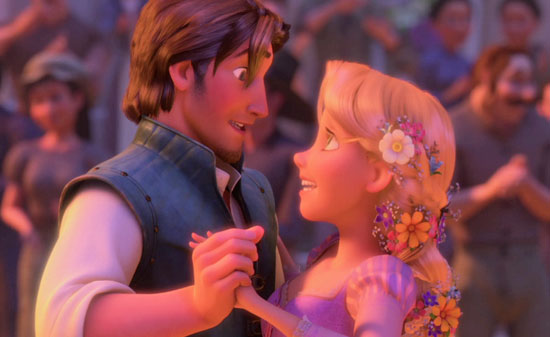 Rapunzel and Flynn / Eugene don't start out as friends, but it isn't too long before they come out of their shell and find it impossible not to like each other. They fall more and more in love as they tour the kingdom, dancing and rowing out onto the lake to watch the floating lanterns. (Tangled)
Anna and Kristoff
At first, Anna and Kristoff don't really get along, but as they spend more time together, they find a lot to like about each other, and develop romantic feelings. Because Anna is engaged to Prince Hans, these feelings remain for some time largely repressed, but after Hans is revealed to be a villain, and the engagement is ended, Anna and Kristoff freely admit their love. (Frozen)
Related:
Frozen movie quiz
Dolores and Mariano
Dolores was secretly in love with her sister Isabela's fiancé Mariano for a long time. When it's revealed that Isabela has no interest in marrying Mariano, Dolores at last confesses to him her feelings, and the two start a romantic relationship. (Encanto)
Ember and Wade
Though elementally different, Ember, a fiery young woman, and Wade, a go-with-the-flow guy, over time discover how much they actually have in common, and fall deeply in love. (Elemental)