Donald Duck Bio
About Donald
Donald made his debut in 1934 in "The Wise Little Hen". Though prone to moodiness, he has many friends, among them Mickey, Goofy, Minnie and, of course, sweetheart Daisy. He is the nephew of the world's richest duck, Scrooge, and has three nephews of his own:

Huey, Dewey and Louie

. He has appeared alongside them in numerous comics as well as in the television series "Ducktales" and "Quack Pack".

He may not be the world's luckiest duck (that would be his cousin Gladstone Gander), but his star on the Hollywood Walk of Fame is proof positive of his being the most famous.
Donald's Name Around the World
Denmark: Anders And
Greece: Ntonalt Ntak
Estonia: Piilupart Donald
Indonesia: Donal Bebek
Italy: Paperino
Portugal: Pato Donald
Sweden: Kalle Anka
Portugal: Pateta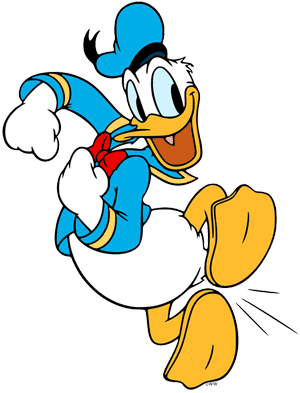 Fun with Donald
Donald's Gallery by Disneyclips.com