Updated August 1st 2022
Which Disney characters' names begin with the letter V?
Some popular names include Vanellope, Vanessa and Violet
This list (complete with pictures!) includes classic Disney characters and main and minor characters from the official Disney and Pixar animated canon. The list is updated with new movie releases, so check back for more!

Total characters found in the Disney and Pixar canon whose names start with the letter V: 15
List of Characters
Van (Cars)
Vanellope (Wreck-it Ralph)
Vanessa (The Little Mermaid)
Verne (Treasure Planet)
Victor (The Hunchback of Notre-Dame)

Victor Hugo (Cars 2)
Victoria Rivera (Coco)
Vincenzo "Vinny" Santorini (Atlantis)
Vinnie (Bolt)
Violet (The Incredibles)
Vixey (The Fox and the Hound)
Virana (Raya and the Last Dragon)
Vlad (Tangled)
Vladimir Trunkov (Cars 2)
Voyd (Incredible 2)
❮

Disney names that start with U
Disney names that start with W

❯
How many characters can you name in the image below? Find each character whose name is shown!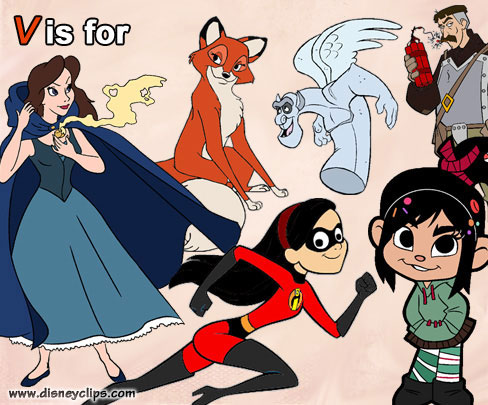 Vanellope
Vanessa
Victor
Vinny
Violet
Vixey
❤ You may also like

The Definitive Disney Dogs List
Disney Princess Names
Source: IMDB