Disney Characters That Start With
G
Last updated September 22nd 2023
Do you know all the Disney characters' names that start with G? Disney fans are sure to recognize more than a few names on this list of characters from the official Disney and Pixar animated canon. They include some big personalities, like Gaston, Genie, Goofy and Grumpy!

Read on to find out more about the letter G in the Disney alphabet, or skip ahead to the full list of characters with pictures! The list is updated with the release of new Disney movies, so check back for more!

Which Disney characters' names start with the letter G?


Some popular names are Gaston, Genie, Goofy, Grumpy and Gus. The most common names beginning with G are Gideon and Guido.
How many Disney characters start with G?


This list features

55

classic Disney characters and main and minor characters from the official Disney and Pixar animated canon.
The Letter G Fun Facts


This list includes 1 of Snow White's seven dwarfs (Grumpy) and no less than 5 Disney Villains.
Full List of Disney Characters That Start With G
Gabby Gabby (Toy Story 4)
Gaetan Moliere (Atlantis)
Gale (Elemental)
Gamma (Up)
Gantu (Lilo and Stitch)
Gareth (Zootopia)
Gaston (Beauty and the Beast)
Gaxton (Onward)
Gazeem (Aladdin)
Gazelle (Zootopia)
Gene (Wreck-it Ralph)
Genie (Aladdin)
George Darling (Peter Pan)
Georgette (Oliver and Company)
Georgia (The Princess and the Frog)
Gepetto (Pinocchio)

Gerald (Finding Dory)
Gerda (Frozen)
Ghibli (Elemental)
Giacomo (Luca)
Giddy (Dumbo)
Gideon (Pinocchio)
Gideon Grey (Zootopia)
Giggle McDimples (Toy Story 4)
Gilbert Huph (The Incredibles)
Gill (Finding Nemo)
Git (Ratatouille)
Giulia (Luca)
GoGo Tomago (Big Hero 6)
Goob (Meet the Robinsons)
Gopher (Winnie the Pooh)
Gordon (Brave)
Gothi (Frozen)
Grace (Home on the Range)
Grandmother Willow (Pocahontas)
Grand Pabbie (Frozen)
Grecklin (Onward)
Grem (Cars 2)
Grewnge (Treasure Planet)
Grimsby (The Little Mermaid)
Guido (Cars)
Guido (Luca)

Gurgi (The Black Cauldron)
Gurgle (Finding Nemo)
Gus (Cinderella)
Gusteau (Ratatouille)
Gypsy (A Bug's Life)
❮

Disney names that start with F
Disney names that start with H

❯
How many characters can you name in the image below? Find each character whose name is shown!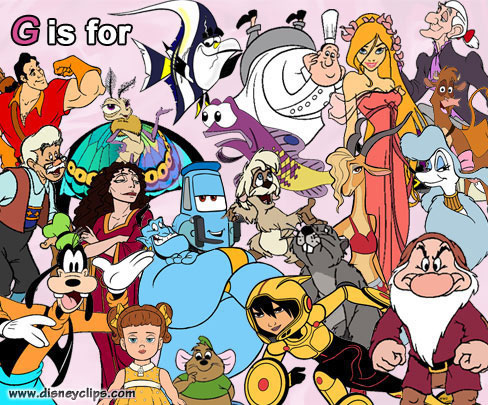 Gabby Gabby
Gaston
Gazelle
Genie
Georgette
Gepetto
Gill
GoGo Tomago
Goofy
Gopher
Mother
Gothel
Grace
Grimsby
Grumpy
Guido
Gurgi
Gurgle
Gus
Gusteau
Gypsy
❤ You may also like

The Definitive Disney Dogs List
Disney Princess Names
Source: IMDB