Without further ado, here are the Top 10 Best Disney Songs of all time, ranked by Disneyclips.com:
10
Someday My Prince Will Come
Movie: Snow White and the Seven Dwarfs
Music and lyrics by: Frank Churchill and Larry Morey
Performed by: Adriana Casselotti as Snow White
Accolades: Listed at #19 in 'AFI's 100 Greatest Songs in Film History'
Worthy of note: Many versions were performed by renowned artists, including Miles Davis, Lena Horne, Bill Evans and Herbie Hancock
Someday My Prince Will Come lyrics
9
You'll Be in My Heart
Movie: Tarzan
Music and lyrics by: Phil Collins
Performed in the animated movie by: Glenn Close (as Kala) and Phil Collins
Awards: Won the Academy Award for 'Best Original Song'; won the Golden Globe Award for 'Best Original Song'; nominated for the Grammy Award for 'Best Song Written for Visual Media'
Charts: Spent 19 (non-consecutive) weeks at #1 on Billboard's 'Adult Contemporary' chart in 1999
8
We Don't Talk About Bruno
Movie: Encanto
Music and lyrics by: Lin-Manuel Miranda
Performed by: Carolina Gaitán, Mauro Castillo, Adassa, Rhenzy Feliz, Diane Guerrero, Stephanie Beatriz and the Encanto cast
Awards: The song was not submitted for award nominations; Dos Oruguitas was submitted instead.
Charts and success: The song reached #1 on Billboard's Hot 100 and Global 200, which is based on streaming and sales activity culled from more than 200 territories around the world. It was certified double platinum in the United States, having sold over 2 million units, and became Billboard's highest-charting Disney song in 26 years.
We Don't Talk About Bruno lyrics
7
Under the Sea
Movie: The Little Mermaid
Music and lyrics by: Alan Menken and Howard Ashman
Performed in the animated movie by: Samuel E. Wright as Sebastian
Performed in the Broadway musical by: Tituss Burgess
Awards: Won the Academy Award for 'Best Original Song'; won the Golden Globe Award for 'Best Original Song'; won the Grammy Award for 'Best Song Written for Visual Media'
6
Colors of the Wind
Movie: Pocahontas
Music and lyrics by: Alan Menken and Stephen Schwartz
Performed in the animated movie by: Judy Kuhn as Pocahontas
End title performed by: Vanessa Williams
Awards: Won the Academy Award for 'Best Original Song'; won the Golden Globe Award for 'Best Original Song'; won the Grammy Award for 'Best Song Written for Visual Media'
Charts: Listed at #31 on Billboard's 'Year-End Top 100' in 1995; peaked at #4 on Billboard's 'Hot 100' in 1995
RIAA certification: Certified Gold (has sold 500,000 units in the U.S.)
5
Can You Feel the Love Tonight
Movie: The Lion King
Music and lyrics by: Elton John and Tim Rice
Performed in the animated movie by: Nathan Lane, Ernie Sabella, Kristle Edwards, Joseph Williams and Sally Dworsky
End credit version performed by: Elton John
Awards: Won the Academy Award for 'Best Original Song'; won the Golden Globe Award for 'Best Original Song'; nominated for the Grammy Award for 'Best Song of the Year'
Charts: Listed at #18 on Billboard's 'Year-End Top 100' in 1994; peaked at #4 on Billboard's 'Hot 100' in 1994
RIAA certification: Certified Gold (has sold 500,000 units in the U.S.)
Can You Feel the Love Tonight lyrics
4
Beauty and the Beast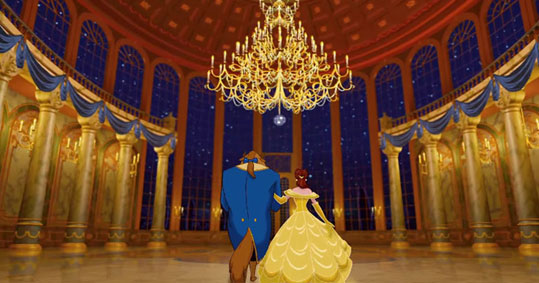 Movie: Beauty and the Beast
Music and lyrics by: Alan Menken and Howard Ashman
Performed in the animated movie by: Angela Lansbury as Mrs. Potts
End title performed by: Celine Dion and Peabo Bryson
Awards: Won the Academy Award for 'Best Original Song'; won the Golden Globe Award for 'Best Original Song'; won the Grammy Award for 'Best Song Written for Visual Media'; nominated for the Grammy Award for 'Best Song of the Year'
Accolades: Listed at #62 in AFI's '100 Greatest Songs in Film History'
Charts: Listed at #64 on Billboard's 'Year-End Top 100' in 1992; peaked at #9 on Billboard's 'Hot 100' in 1992
RIAA certification: Certified Gold (has sold 500,000 units in the U.S.)
Beauty and the Beast theme song lyrics
3
A Whole New World
Movie: Aladdin
Music and lyrics by: Alan Menken and Tim Rice
Performed in the animated movie by: Brad Kane as Aladdin and Lea Salonga as Jasmine
End title performed by: Peabo Bryson and Regina Belle
Broadway adaptation performed by: Adam Jacobs and Courtney Reed
Awards: Won the Academy Award for 'Best Original Song'; won the Golden Globe Award for 'Best Original Song'; won the Grammy Award for 'Best Song Written for Visual Media'
Charts: Listed at #18 on Billboard's 'Year-End Top 100' in 1993; peaked at #1 on Billboard's 'Hot 100' in 1993; listed at #17 in Billboard's 'Top 100 Adult Contemporary Songs Ever'
RIAA certification: Certified Gold (has sold 500,000 units in the U.S.)
2
Let it Go
Movie: Frozen
Music and lyrics by: Kristen Anderson-Lopez and Robert Lopez
Performed in the animated movie by: Idina Menzel as Elsa
Pop version performed by: Demi Lovato
Awards: Won the Academy Award for 'Best Original Song'; nominated for the Golden Globe Award for 'Best Original Song'; won the Grammy Award for 'Best Song Written for Visual Media'
Charts: Listed at #21 on Billboard's 'Year-End Top 100' in 2014; peaked at #5 on Billboard's 'Hot 100' in 2014
RIAA certification: The Idina Menzel version has been certified 8x platinum (has sold 3,500,000 units in the U.S.); Demi Lovato version has been certified platinum (has sold 1,000,000 units in the U.S.)
Global sales: Idina Menzel version listed at #5 on the top 10 list of digital singles sales in 2014, with 10.9 million total sales
1
When You Wish Upon a Star
Movie: Pinocchio
Music and lyrics by: Leigh Harline and Ned Washington
Performed in the animated movie by: Cliff Edwards as Jiminy Cricket
Awards: Won the Academy Award for 'Best Original Song'
Accolades: Listed at #7 on AFI's '100 Greatest Songs in Film History'; chosen as one of the 25 sound recordings considered "culturally, historically, or aesthetically important..." by the National Recording Preservation Board in 2009
Charts: Version recorded by Dion & the Belmonts peaked at #30 on Billboard's 'Hot 100' in 1960
Prevalence in media: Featured as the opening theme song to the Wonderful World of Disney; featured during the opening sequence in Walt Disney Pictures movies, accompanying the castle logo