Disney Song Snippets 3
The following images were assembled and/or colored by Disneyclips.com. They are intended for non-commercial purposes only.
All at once everything looks different now that I see you.
Tangled
It's up to you how far you go. If you don't try you'll never know.
The Sword in the Stone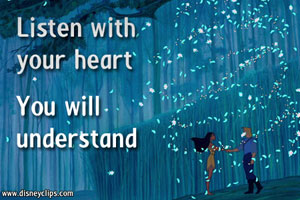 Listen with your heart.
You will understand.
Pocahontas


A whole new world, a hundred thousand things to see.
Aladdin
Life is brief, but when it's gone love goes on and on.
Robin Hood
We are Siamese if you please. We are Siamese if you don't please.
Lady and the Tramp