Synopsis
The beautiful and kindhearted princess Snow White charms every creature in the kingdom except one – her jealous stepmother, the Queen. When the Magic Mirror proclaims Snow White is the fairest one of all, she must flee into the forest, where she befriends the lovable seven dwarfs – Doc, Sneezy, Grumpy, Happy, Bashful, Sleepy and Dopey. But when the Queen tricks Snow White with an enchanted apple, only the magic of true love's kiss can save her!
Credits
| | |
| --- | --- |
| Bashful | Scotty Mattraw |
| Doc | Roy Atwell |
| Happy | Otis Harlan |
| Huntsman | Stuart Buchanan |
| Magic Mirror | Moroni Olsen |
| Prince | Harry Stockwell |
| Sneezy | Billy Gilbert |
| Snow White | Adriana Caselotti |
| The Queen | Lucille Laverne |
Photo Gallery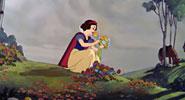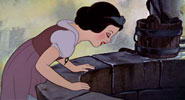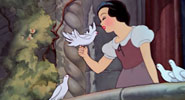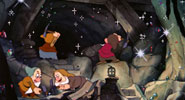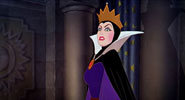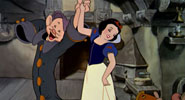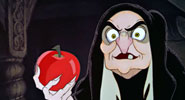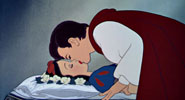 Did You Know?
While it was in production, the Hollywood movie industry mockingly referred to Snow White and the Seven Dwarfs as "Disney's Folly". Walt Disney had to mortgage his house to help finance it.

We all know the seven dwarfs today as Grumpy, Dopey, Happy, Sleepy, Sneezy, Bashful and Doc, but several other characters were once considered in their place, such as Awful, Biggy, Blabby, Dirty, Gabby, Gaspy, Gloomy, Hoppy, Hotsy, Jaunty, Jumpy, Nifty and Shifty.